Boost your brand visibility: become a sponsor and / or exhibitor at the ASECAP Days!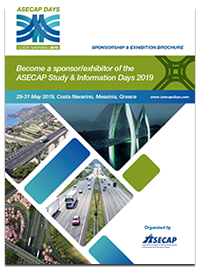 Asecap Days 2019
Sponsorship Brochure 2019 

ASECAP has developed tailor-made sponsorship packages and items for you. Read without delay our Sponsorship & Exhibition Brochure (see above by clicking on the cover) to view the wide range of sponsorship packages that are available.

Below you will find an overview of the Sponsorship Opportunites:
1) Global Sponsorship Packages:
    - Aristote Sponsorship (Gold Sponsor)
    - Maria Callas Sponsorship (Silver Sponsor)
2) Specific Sponsorship items:
    - Internet Café & Internet Access
    - Welcome Reception (NO LONGER AVAILABLE)
    - ASECAP Days Dinner (NO LONGER AVAILABLE)
    - Refreshment breaks
    - Powerblock chargers
    - Lounge area & "Spark" station
    - Final programme
    - Directory of delegates
    - Lanyards
    - USB keys
    - Pens
    - Notepads
    - Conference bags
    - Conference badges
    - Luggage tags
    - Smoothie bar
    - Fruit sponsor
    - Delicacy Sponsor
    - Sponsors Row


Interested to become an exhibitor as well?
If you also decide to reserve an exhibit booth, you are kindly invited to look at the exhibition floorplan (the floorplan is not yet available. It will be posted soon on this webpage and into the Sponsorship & Exhibition Brochure) and choose the booth that has your preference. Please note that exhibit booths shall be attributed on a first-come-first-served basis.

If you are an exhibitor, then take part in our Treasure Hunt! You will find all details about it in our Sponsorship & Exhibition Brochure as well.
All Sponsorship / Exhibition forms can be found in the brochure. Fill them out and return them to ASECAP by email at asecapdays@asecap.com.

Any questions?
Send your request to asecapdays@asecap.com.